"We're more than a Team, We're a Family!"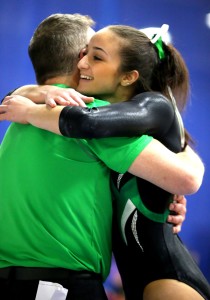 Tim O'Leary – Owner/ Team Coach
Tim O'Leary has more than 30 years of coaching experience in the sport of gymnastics. As the owner of O'Leary's Gymnastics Center, he balances the business responsibility with his passion for coaching. At O'Leary's you can find him on the floor most days of the week, where he devotes himself to coaching the youngest gymnasts, who are barely 2 years old, as well as training the competitive high school students. Tim gets great personal satisfaction from coaching and wouldn't have it any other way. Even though opening his own business is one of his greatest accomplishments, it cannot compare to helping his students meet their own goals and seeing them succeed personally.
Before opening O'Leary's Gymnastic Center in 2003, some of Tim's coaching career highlights included; being the head coach at Bridgewater-Raynham High School, helping to lead the Trojans to three league championships and two MIAA South Section Championships. In 1999, Tim led the team to both an MIAA State Championship and a New England Championship. Tim has been the MIAA director since 1999. In addition, he has also coached the Massachusetts High School Girls' Senior National Team. His squad placed third in the nation in both 1997 and 2000, winning the NHSGCA National High School Championship in 2001, 2003, 2005, 2013 and placing second in 2015. He spent one year as an assistant coach at Rhode Island College, before accepting a coaching position at Brown University. During his 4 years at Brown University, he made improvements in the team's overall performance, increasing difficulty on vault and bars and helping lead the Bears to new school records on every event. In 2003, Tim was honored as the ECAC Assistant Coach of the Year and helped coach two gymnasts to the NCAA Regional all-around competition. In 2004, the team ranked 13th in the nation academically with a team GPA of 3.43, and eleven gymnasts earned Academic All-American honors. In 2005, Tim helped coach the team to their first victory over URI in nearly 25 years, earning a spot as third place team finish at the ECAC Championship and he also led one individual all-around gymnast to the NCAA Regional Championships. Tim's coaching accomplishments don't end here. He is also two-time Boston Globe Coach of the year and as the owner and Head Coach of O'Leary's, Tim coached his own O'Leary's gymnasts to States, Regionals and Nationals.
The passion Tim has for this sport can truly be seen throughout the entire facility. Tim is true to his 'motto' "We're more than a Team, We're a Family" and O'Leary's truly Provides professional gymnastics instruction in a fun, safe and nurturing atmosphere where all gymnasts can gain confidence and be successful. The gymnasts learn to respect the sport of gymnastics and each other while developing Lessons and skills that will serve them long after their time in the gym.