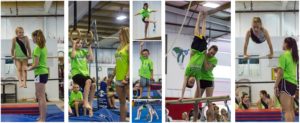 O'Leary's Recreational Program is design to bring out the best personal potential in each O'Leary's gymnast. Our gymnasts are being placed into classes based on gender, age and physical & cognitive readiness.
Our goal is to provide a safe and fun environment where we teach our gymnasts to respect the sport of gymnastics, and each other!
  BEGINNER CLASS

INTERMEDIATE CLASS
ADVANCED CLASS
1 Hour Class
1.5 Hours Class
2 Hour Class
In our Beginner Class the gymnasts will be introduced to the basic gymnastics skills on each event, as well as work on increasing strength & flexibility.Events include vault, bars, beam and floor for the girls and vault, bars, parallel bars, rings, pommel horse, mushroom and floor for the boys.
Our Intermediate Class is designed for gymnasts who already have and can demonstrate the

basic concepts

and skills of gymnastics. The gymnasts will move on to more advanced skills through more demanding skill progression, strength and flexibility. Recommendation by a coach is required.
Our Advanced Class is for gymnasts who already mastered the main gymnastics motor patterns in our previous classes.  In this class the gymnasts will learn more advanced and specific gymnastics techniques.  Recommendation by a coach is required.